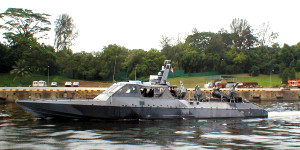 When most people picture riverboats, they think of idyllic fishing kayaks floating lazily while sappy music plays. Not so for those soldiers who've seen the destructive power of military riverboats in action. Riverine warfare, or use of so-called "Brown Water Navy," has been a part of combat doctrine for decades, and is still considered a critical part of naval engagements in many parts of the world. In this article, we'll be going over modern day Brown Water Navies from all over the world, and the diverse array of combat boats that they make use of.
•Iraq: The Small Unit Riverine Craft
Today, the rivers of Iraq are awash in military river boats. Made for transporting small but highly elite units of marines, Small Unit Riverine Crafts (SURCs) are the United States and Philippine Navies' primary method of river warfare today. SURCs are fairly lightweight, but capable of carrying a full-sized compliment of marines and their weapons. While the boats contain mounts for heavy machine guns and smoke launchers, they rarely need them: 16 Marines is usually more than sufficient to take on whatever challenges the Euphrates presents. For more on SURCs, see this article.  These are not your average fishing kayaks.
•Vietnam: The Assault Support Patrol Boat
After the Vietnam War, United States forces left many of their military river boats with South Vietnamese forces, where they were subsequently captured and pressed into service by the Viet Cong. Although primarily used for minesweeping now, with some even being reoutfitted as fishing trawlers, these boats have since served the test of time and are still considered a critical part of Vietnam's Brown Water Navy. With multiple heavy machine gun emplacements, a massive 36.5 ton frame, and options for heavy weapons placement, it's not hard to see why. For more on the various classes of patrol boats in the Vietnam War, see here.
•South America: The Mk 1 Piranha Assault Boat
Used by South American River Navies from Bolivia to Uruguay, the Piranha Assault Boat combines speed with ruthless power and efficiency. With a full crew of four and multiple weapon emplacements, the craft can still achieve a speed of 40 knots under full load conditions. This speed and maneuverability means that, in addition to police functions (mostly deterring smuggling via rivers and lakes), the craft is often used for search and rescue missions, where it can respond to threats faster than virtually any other craft. In a full-on engagement the Piranha doesn't disappoint, as its treated aluminum frame (commonly seen in Tandem Kayaks like these here) is highly resistant to both bullets and explosions.
• India: L&T Fast Interceptor Craft
One of the world's most state of the art military river boats, the L&T's design philosophy is all about speed. Ditching heavy weapons to improve manoeuvrability, India's premiere patrol boat is meant to chase down smugglers to let its crew aggressively board their vessels. The L&T carries a crew, massive for its size, of 12 well-trained soldiers in the service of the Indian Coast Guard.